Do you want to clean your home effectively & affordably with nontoxic & eco-friendly DIY products?
Click to sign up now!
Not ready yet? Sign up now for the FREE 3-Day Green Cleaning Challenge!
Are you ready to ditch toxic cleaners for safe DIY cleaning products? Make your home truly cleaner by switching to 3 cleaning cabinet essentials for your kitchen, laundry room, and bathroom. Sign up now to receive your VIDEO tutorials, cleaning schedule checklists, and recipes to make multi-purpose cleaner, laundry powder and toilet cleaner. Ready to take the step towards nontoxic living?
Sign me up!
This class is for you if…
You want video tutorials to learn how to effectively clean your home with tried & tested DIY products and tricks that are affordable and safe.
You want a convenient cleaning program: cleaning gear checklists, a product guide, your list of DIY cleaning cabinet essentials, printable labels, your cleaning schedule, a handy e-workbook for easy reference, and more.
You want options for off-the-grid zero waste cleaning that include thrifting, reusing, repurposing, crafting, and foraging for cleaning agents.
You want to learn about the dangerous substances hiding in your cleaning products and how to detect greenwashing.
You want cleaning recipes and tricks that are:
Effective
We tested over 100 tricks and recipe combinations so you wouldn't have to waste your time with trial and error.
Affordable
Cleaning your home with affordable products that are free of toxins. 
Safe
We've only chosen the absolute safest ingredients for your DIY products and share important safety guidelines.
Green
The ingredients have a small ecological impact, and we always call ourselves out on where they fall short.
Everything is at your disposal to easily make your cleaning cabinet essentials and stick to a cleaning schedule.
Why we created this class…
Part of me always knew there were dangerous chemicals lurking in our household. It wasn't until I was suffering from severe hormonal imbalance that I began researching deeper into the topic of household toxins. To my surprise, I learned that we are being exposed daily to not only hormone disrupters, but also carcinogens, and neurotoxicants present in our cleaning products, our cosmetics, our food, our furniture, and more. And the worst part? These dangerous substances aren't even required to be listed on cleaning product labels.
I had always felt like there wasn't much that could be done to escape toxic cleaners without paying a good amount of money on the safe "green" products. That is until I learned that you could clean with vinegar. How in the world had I never been taught this most basic skill? Ever since then, I've been trying new ingredients, testing new recipes, learning how to detect greenwashing, and discovering more and more about how to clean safely, effectively and affordably.
I even began teaching about the new cleaning skills I was acquiring, and that's when dear Cristina came along. We put our heads together to create this master class with the very best tried and tested recipes and tricks that actually work! To do so, we may have overcommitted ourselves. We stained our clothes, our carpets, left dirty areas unattended for a bit too long, just to test over 100 tricks and recipe combinations! We took one for the team so that you wouldn't have to waste your time with trial and error.
We want to make it easy, convenient and affordable for you to clean your home safely. To help you on your journey to nontoxic living, we have gathered the most valuable information about green cleaning in our online class: Conscious Cleaning 101.
…you had the peace of mind that the cleaning products you were using weren't harming your health, your family's health, or the environment.
…you could easily & affordably stock up on your DIY cleaning products for an entire year and wouldn't have to worry about being short on supplies.
…you had full support to achieve your goals through video tutorials, an e-workbook, checklists, guidelines, a helpful online community, and guidance on taking action in your local community.
Conscious Cleaning 101: A Green Cleaning Workshop minus the Greenwashing B.S.!
Module 1: Goal-Setting
We want you to be successful on your journey to nontoxic living! This module helps you determine what your specific goals are in taking this class.
Module 2: Toxic Chemicals in Everyday Products
We cover safety testing for chemicals on the US market, how risk factors for chemicals are determined, and look at US vs. EU regulations.
Module 3: Health Risks
Exposure to toxic chemicals in cleaning products carries the risk of certain acute and chronic health problems.
Module 4: Navigating Labels
In the US, cleaning products are not required to disclose their ingredients on labels, and workers often aren't aware of the exposure hazards.
Module 5: Safe Ingredients: Common
We review 15+ cleaning ingredients that are cheap and widely available: how they're made, their properties, limitations, etc.
Module 6: Safe Ingredients: Potentially Uncommon
We review the properties and limitations of 4 ingredients that are popular in Europe, and worth learning about.
Module 7: Questionable ingredients
Some products that are often touted as safe green products didn't make the cut. We explain why.
Module 8: Safety Precautions
There are common sense safety rules to follow as well as precautions you may not have considered when it comes to cleaning.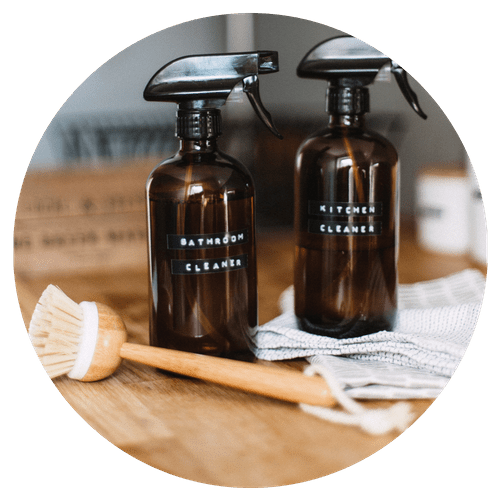 Module 9: Cleaning Gear Essentials
Determine what gear you need while minimizing your environmental impact by reusing and repurposing.
Module 10: Intro to Recipes & Tricks
This section introduces your list of cleaning cabinet essentials, provides printable labels for your products and reminds you which ingredients not to mix.
Module 11: Cleaning your Kitchen
You'll make kitchen cleaner and dishwashing or dishwasher soap. You'll receive your cleaning schedule and learn cleaning hacks & more recipes.
Module 12: Cleaning in the Laundry Room
You'll make a hamper ball, a pre-treat stain remover, laundry powder, whitener, fabric softener, laundry perfume, dryer sheets, and much more.
Module 13: Cleaning your Bathroom
Projects include a shower spray, a mildew-fighting mix, scouring paste, toilet cleaner and fizzies, and learning about candles and essential oils.
Module 14: Cleaning your Living Areas
You'll prepare multi-purpose cleaner, window cleaner, air fresheners (tea tree oil spray, vaporizer mix, pot-pourri), wood polish, and more.
Module 15: Thanks & Bloopers
An invitation to take action locally, info on staying involved in nontoxic living, as well as a Best Of gag reel.  
BONUS: Zero Waste Cleaning Tips
We discuss package-free options for cleaning ingredients and which packaging options are most and least eco-friendly.
BONUS: Houseplants that clean the air
Indoor air pollution is often worse than outdoors. These houseplants sequester up to 90% of pollutants from the air within 24 hours.
BONUS: 10 Ways to Clean with Soap Nuts
Learn about the many ways to use soap nuts to clean your home, your laundry, and even your skin and hair.
BONUS: Cleaning with Essential Oils
Meet Jenny from Aromatics International who discusses the many benefits of cleaning with essential oils.
BONUS: Building Community around Nontoxic Living
Meet Kristi from Savvy Women's Alliance who explains how joining or starting a local chapter can help you on your journey to nontoxic living.
What does this workshop include?
Lifetime access to the video tutorials
 for all 20 modules (2 hours)
A 250+ page PDF workbook
that contains Modules 1-15, beautifully designed by Cristina, with a gorgeous cover by the talented Eco with Em.
Review questions
to help you assimilate the class information
Watch the videos on any device.
This online workshop is self-paced. Start whenever you want at your own convenience! The course materials are yours for life.
Access to an exclusive student forum
You will have access to a supportive online community hosted on Facebook to submit your questions and share your successes or difficulties. It's a wonderful opportunity to get feedback and motivate one another.
Access to workshop updates
As we add content to our workshop over time, you will have access to all updated information.
Support from Savvy Women's Alliance
Savvy Women's Alliance will support you in joining or starting a local chapter to promote nontoxic living in your community.
Christelle is a bubbly environmental educator and permaculture instructor who infuses optimism in her classes and laughs at her own jokes. Originally from Geneva, Switzerland, her studies and career have focused on environmental protection. She's multilingual, a mama (or "Permamacita"), a beekeeper, and a foraging enthusiast with an insatiable curiosity for life. Christelle is passionate about healthy living and – let's be honest here – does not
love
cleaning, but it's an inescapable part of life. Together with her Permacrafters colleague Cristina, she spent two years diligently developing and fine-tuning nontoxic planet-friendly cleaning recipes and tricks for her family to safely use.
Still have questions? Send us a message!
Frequently Asked Questions
How long do I have access to the course for?
How does FOREVER sound? You keep the courses as long as the internet exists.
Do you offer refunds or exchanges?
Permacrafters does not offer refunds, as stated in our Terms of Use. All sales are final (unless you accidentally purchased the course multiple times). We are a mission-based business that offers accessible pricing, therefore our profit margins are low. In the digital content world, where courses are immediately downloadable, there's unfortunately a high prominence of content theft through illegitimate refund requests. Our two-person team can't allocate the time required to keep up with this regrettable trend. 
However, we want to assure you that if there are any updates you wish to see to the course or any additional modules or plant profiles, we will immediately seek to make these improvements. Do not hesitate to ask, because we create new content every week and are constantly updating our courses and adding new video lessons.
To give you further peace of mind, in some cases we can offer exchanges. We are so confident that you will love this course, that if by day 7 you aren't delighted, you can exchange the course for any of our other courses of equal value.
What do you mean by "conscious cleaning"? Is your class truly "green"?
This class is about making choices that are less harmful to the planet. It is a conscious cleaning workshop in the sense that:
we encourage you to be as resourceful as possible by reusing and repurposing to minimize waste

the ingredients we list do not pollute our waterways (and some can be composted after use)

the products we list are not toxic to your health, to the environment, and are not deadly dangerous

the products we list are produced responsibly as compared to other products on the market
Our class is all about green cleaning minus the greenwashing. If you are tired of false advertising and misleading claims on cleaning products, we are right there with you! So let's call ourselves out on where we fall short.
Other than going foraging for English ivy to make homemade soap, making your own kombucha vinegar, using coffee grounds, or collecting ash from a firepit, NO product is going to have a carbon neutral footprint. Almost every ingredient we use in our class will need to be produced, shipped, and discarded. Additionally, some of these otherwise "eco-friendly" products might come in single-use packaging or wrapped in plastic. Not all the ingredients on our list are going to be completely "green".
The current world we live in makes it difficult, if not impossible to make perfect choices. So, green perfection is not our goal. Our goal is to minimize our environmental impact by making way better choices for the planet. We will encourage you to always be resourceful, support companies who are getting things right whenever possible (i.e. sustainable production, package-free), and to become more conscious in the decisions you make to clean your home.
I want information on Zero Waste cleaning, will I find that here?
Absolutely! This class gives many zero waste cleaning options. Many of the ingredients we list can be purchased in bulk without packaging. You can also go totally off grid and zero waste by A) foraging for English ivy or other saponin-rich plants, B) growing your own sponges, and C) collecting ash out of a fire pit to make your own laundry detergent 400 BC style. We show you how to live off of the wastestream by: 1) making sponges from old socks, 2) using old coffee grounds or kombucha vinegar for cleaning purposes, 3) repurposing items like toothbrushes or old shirts to turn them into cleaning gear, 4) thrifting for cleaning gear essentials, and 5) safely reusing cleaning containers. We even teach you how to safely dispose of hazardous waste.  
What is greenwashing?
Greenwashing is when companies use misleading claims or false advertising to promote the idea that their product is eco-friendly, when it is not. Examples: 1) A company is selling an "environmentally-friendly" bamboo mop instead of a plastic mop, failing to mention that the bamboo is treated with chemicals that are neurotoxicants and toxic to the environment. 2) A microfiber cloth company is selling an "eco-friendly" cloth that is reusable and reduces the need for cleaning products, failing to mention that it contributes to microplastic pollution.    
Is this class the right fit for me?
If you don't like DIY projects and prefer to purchase green-certified cleaners, this class may not be for you.
How long do I have access to this workshop for?
Forever! You have lifetime access to the course materials. This includes access to updated information as we add content to our workshop.
What format is the class delivered in?
The course materials are available through streamable online videos, a downloadable PDF workbook, and printable checklists and instructions. You may watch the workshop videos from your computer, iPad or smartphone. 
How much should I budget for materials?
To complete this class, your budget can be as low or as high as you want. The majority of the recipes we present in this class are made with very cheap and common ingredients such as baking soda, vinegar, salt, and coffee grounds. We've also partnered with Aromatics International and NaturOli who generously offered discounts on their essential oils and soap nuts.
Throughout the class, we encourage you to reuse items whenever possible. This includes going thrifting for cleaning gear, repurposing old shirts, socks, and toothbrushes, reusing old spray or pump bottles (when it's safe to do so), or even crafting sponges out of old stockings. There are many ways to clean on a small budget and minimize waste in the process.
How long will it take me to finish the workshop?
This workshop is self-paced. You can complete the modules at your own convenience. While the online workshop itself is 2 hours long, reading the workbook and implementing the strategies could take anywhere from 2 days to a month, depending on your time constraints.
Can I share my course login with a friend?
We are offering this workshop at an affordable price and ask that you please respect all the work we have lovingly put into creating it by not sharing your login information. We do encourage you, however, to share more generally what you have been learning about nontoxic living with your community!
What students are saying about the workshop
…
Kerri Ringrose
"Wow, this was very informative! Great course and videos. The workbook is so in-depth and detailed but without going overboard with each topic. Everything is easy to read and straight to the point. I will definitely be saving this to refer to for my natural product diy journey!"
Alyssa Br.
"I really enjoyed this class. I have explored natural cleaning products before but I found this very useful. There is tons of information provided in this course which is fantastic for people who want lots of detail, but since it's in a video format and has PDF attachments, it is also great for people who want to keep it simple and get straight to making their own products. I thought it was nice that the course was updated to reflect changes and provide more relevant information. Overall, great class and very easy to implement these ideas in your day-to-day life!"
Emk
"Absolutely brilliant. The course is both very informative and practical. I feel that I have all the elements to start my own little revolution at home. I will definitely take other courses from Christelle (already followed the Introduction to zero waste), because there is so much more to learn !"
Alyssa Bl.
"This class was fantastic. I have completed many of the recipes and projects in the course and look forward to trying more. The class goes over a lot of wonderful information and I am excited to use! Looking forward to other classes by the Permacrafters."
Lesley B.
"This class was everything I was looking for and more! It answered every question I had. So much depth and detail about the ingredients and the recipes gives me confidence to try these ideas. Thanks for a great class!"
Tatiana M.
"This is a FANTASTIC class! I gathered several tips and tricks to making my home smell and look clean, without harming the environment. 5 stars!!" 
Gabriela S.
"Great class! I really enjoyed Christelles's refreshing and fun way of teaching this class"
Ruth T.
"Very good course, well researched and well presented. Valuable content"
Melanie L.
"This course taught me something I was unsure of and I cannot thank you all enough. VOCs are an issue in my home ……but I love my essential oils. But we need to cut them out while we work on other air pollutants. Thank you Again!"
Phil M.
"well presented with knowledgeable advice. I am so amped to make and use these cleaning aids – and knowing that I am not damaging my own environment and the world is good – Honour to you for sharing this knowledge"
I'm ready to start green cleaning!
FREE Green Cleaning Challenge
Unlimited Access
Video tutorials for 3 essential DIYs

Cleaning checklists

You can upgrade any time
250+ PDF pages, illustrated

100+ cleaning recipes, tips & tricks

Zero waste cleaning tips

Off-the-Grid cleaning skills
E-course + Ebook
Unlimited Access
Lifetime access to the course

Illustrated 250+ page ebook

Review questions

Access to an exclusive student forum

Access to workshop updates